Sierra Vista Electrical Services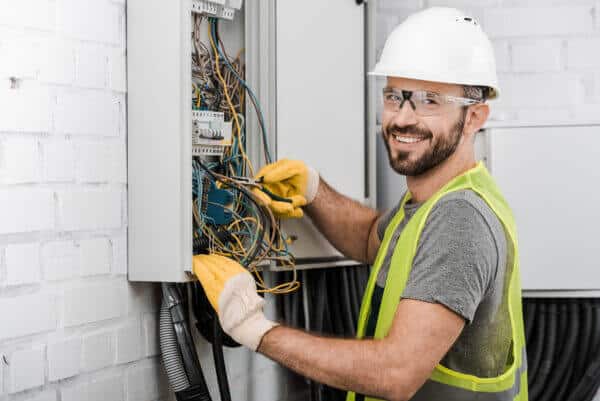 Top-Rated Electrical Services in Sierra Vista and Surrounding Areas.
Tucker Hill AZ, is the leader in providing Sierra Vista Electrical Services to the local community.
Furthermore, we provide premium quality inspections, maintenance, and repair services in Sierra Vista. Electricians are trained on the latest developments in electrical systems across a variety of brands and models through hands-on training.
Our goal is to reduce homeowners' energy costs and save them money, so we offer electricians cost-effective solutions.
Tucker Hill Air, Plumbing & Electric is available 24/7/365 in Sierra Vista, in order to help homeowners reduce their energy costs.
TUCKER HILL AIR, PLUMBING & ELECTRIC IS AVAILABLE 24/7/365
Because of our emergency service, a technician will be dispatched as soon as possible if there is an emergency
Get Quality Sierra Vista Electrical Services
BBB A+ Rating | 100% Satisfaction Guaranteed | Quick Response
(602) 661-3659
Cost-effective solutions to help homeowners
Our training is designed in order to identify help electricians identify and recommend cost-effective solutions. As a result, homeowners will be able to reduce their monthly energy costs.
Residents of Sierra Vista, AZ, and surrounding areas can rely on Tucker Hill Air, Plumbing & Electric for service 24/7/365. We offer emergency services at no extra cost and will send out an electrician as soon as possible, regardless of how urgent the repair is.
Contact us today so that you can find out how fast we can resolve your electrical issue.
Electric Is In Our DNA
Our company does all the electrical work, so you can find a solution for all your problems under one roof. You can call us for help with Blinking lights, blown circuit breakers, or faulty light switches.
When you choose Tucker Hill Air, Plumbing & Electric, you're hiring the most experienced and qualified electricians to provide electrical service to your residential electrical system in Sierra Vista so no more worry!
Same Day And Emergency Sierra Vista Electrical Services At No Extra Cost!
Have an electrical emergency on your hands? Give us a call and we'll send an electrician out right away!
We don't charge extra for emergency services and our electricians are available 24/7/365. Our Team is always available to answer your calls, so you can have peace of mind!
We offer the following residential Sierra Vista electrical services:
Emergency Repairs
Electrical Inspections
Circuit Breakers & Electric Panels Inspection & Repair
Electrical Wiring Installation & Repair
Ceiling Fan Installation & Repair
Whole House Surge Protector Installation
Smoke & Carbon Monoxide Detector Installation & Testing
Electrical Switches & Outlets Installation, Repair & Remodeling
Indoor/Outdoor Lighting Installation & Repair
Internet & Phone Cabling
Meter Base Inspection & Installation
GFCI Outlet Installation & Testing
Backup Generator Recommendations & Installation
The work we do is covered by a 10-year warranty, so you can feel confident the job is done well. Contact Tucker Hill Air, Plumbing & Electric online or call (602) 767-6812  in order to schedule electrical installation or upgrade services in Sierra Vista, AZ.
Need An Electrician In Sierra Vista, AZ?
Our Electrical Professionals are Locally Owned, Licensed & Insured to Protect You.
24/7 Emergency Service Available | (602) 661-3659
WHY TRUST TUCKER HILL AIR, PLUMBING & ELECTRIC
As a result of our dedication to ethical and honest business conduct, Tucker Hill Air, Plumbing & Electric has earned the BBB accreditation. Since we are a BBB-rated company, we aim to provide our clients with the best Sierra Vista Electrical services.
Tucker Hill Air, Plumbing & Electric is a member of The Electric League of Arizona and the Arizona Heat Pump Council. We are also certified and approved contractors for the Salt River Project (SRP), Arizona Public Service (APS), and Southwest Gas. We maintain General Liability and Workers' Compensation insurance with the Arizona Registrar of Contractors.
As a result of the quality of our services, we provide 100% customer satisfaction, lifetime workmanship, and a performance guarantee. We bill our customers at a flat rate rather than an hourly rate for all of our services so that they can save money. We look forward to offering you the highest quality Sierra Vista Electrical service at Affordable prices in order to help you save time and money!!
WITH NON-COMMISSION ELECTRICIANS, WE ENSURE YOU ARE OUR PRIORITY.
Tucker Hill Air, Plumbing & Electric has earned a reputation because of its honesty and integrity. Founded in Sierra Vista, Tucker Hill Air, Plumbing & Electric has the skill-set and experience to handle any electrical problem.
Why we are the Electrical Contractors of Choice:
Non-commission electricians
Sierra Vista's most qualified Commercial and Residential Electricians
Free proposals for new work by phone or in-person
There are no trip charges or hidden fees
Warranty on service panels for life
Electricians are Professionally trained and drug-screened
Licensed, bonded, and insured electricians
SCHEDULE AN ELECTRICAL SERVICE IN Sierra Vista, AZ
At Tucker Hill Air, Plumbing & Electric, we always put our customers first, so you can trust our service. As a result, we aim to complete every electrical project with 100% satisfaction.
Experienced and licensed electricians will handle your electrical work efficiently and effectively so you can have peace of mind!
For electrical service in Sierra Vista, AZ, call (602) 767-6812 or contact Tucker Hill Air, Plumbing & Electric online.