Scottsdale Plumbing Contractor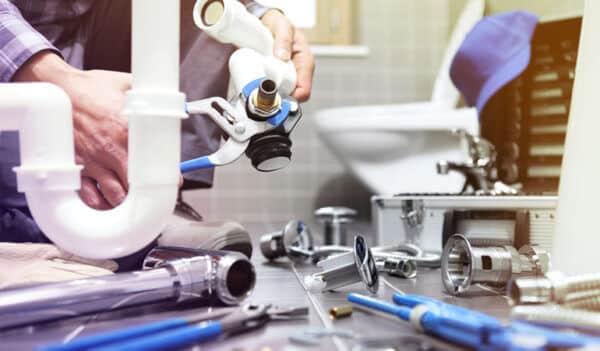 We Provide the Best plumbing services in Scottsdale, AZ
If you've got a plumbing emergency on your hands, no need to wait until a plumber is available — Tucker Hill plumbers are available 24/7/365 for emergency plumbing services in Scottsdale. We're also here to make non-emergency preventative maintenance and repairs for your home or business. Just give us a call at (602) 661-3659 and we'll send out a technician at a time that's convenient for you.
Experienced Scottsdale Plumbing Contractor
Our Scottsdale plumbing technicians are trained in all aspects of plumbing. Customer service and quality are our top priorities. The professionalism of our staff has become a trademark that many of our residential, retail, restaurant and business clients have come to recognize. When you need a fast, reliable, and affordable Scottsdale Plumbing Contractor, we should always be your first choice!
Our Plumbers In Scottsdale Offer Honest And Affordable Pricing
Whenever you need same-day Scottsdale plumber service, we are here to help. We respond to emergencies promptly and fix your plumbing problems effectively. The prices at Tucker Hill Air, Plumbing & Electric are the same whether it's the day, night, or weekend*. Additionally, we are always highly recommended by our many satisfied customers! Call us now at (602) 661-3659 for reliable plumbing services in Scottsdale
Licensed Scottsdale Plumbing Contractors
Count on our Scottsdale plumbing company to meet all your plumbing needs in your home or business. Among these are sinks & faucets, toilets, garbage disposals, septic services, leak detection, etc. Our service areas include Scottsdale, Phoenix, Tempe, Glendale, Mesa, Surprise, Peoria, Chandler, Sun City, and the surrounding areas.
 Scottsdale plumbing issues won't be a problem for you
An award-winning Scottsdale plumbing contractor is ready to serve you! (602) 661-3659
Sewers & Drains
Whether your drains are blocked, cracked, or broken, ignoring the problem could cause serious structural damage. Be sure to call Tucker Hill Air, Plumbing & Electric for inspection and repair in Scottsdale if you notice the following signs of a drain problem:
Clogged or poorly-flushing toilet
Poor drainage in sinks
Pools of foul-smelling water inside or outside the home
Leaking drains
Visible cracks in the driveway, windowsills, brickwork, or other areas of the home's foundation
Older homes and properties are more likely to have deteriorating pipes and joints, increasing the risk of drainage problems. Call Tucker Hill Air, Plumbing & Electric for drain cleaning, repair, and replacement, or any other Plumbing Services in Scottsdale. We'll get your plumbing system back to normal in no time.
Water Heaters
A water heater plays a crucial role in your home's plumbing system. Just one malfunctioning component can leave you with cold water. A few signs to look out for include:
Water leaking from the top of the water heater
Water leaking from the bottom
Extremely hot or cold water
Water takes too long to reheat
Low hot water pressure
Strange noises coming from the water heater
Rusty or dirty water
Foul (sulfur or rotten egg) smelling water
If you notice any of these signs, be sure to call Tucker Hill Air, Plumbing & Electric for inspection and repair. During the service call, our technician will diagnose the problem and provide a quote clearly outlining the costs of parts and labor.
Get Quality Plumbing Repair Services in Scottsdale
BBB A+ Rating | 100% Satisfaction Guaranteed | Quick Response
(602) 661-3659
Water Filtration
Your home's water quality will have a direct impact on its taste and safety and can leave washed clothing looking dull. Here are five signs you need to replace your home's water filtration system:
Poor taste
The home was built before 1986 (the year lead was banned in water supply pipes)
Relying on well water
Poorly-laundered clothing
Need to constantly scrub the sink, shower, or tub to get rid of soap scum
Because we rely on the water so heavily in our daily lives, it's important to make sure it's clean and safe to use and consume. A whole house water filtration system will help protect you and your loved ones from water-related diseases and contaminants.
Gas Lines
The trouble with gas lines is a serious issue and should not be taken lightly. If you notice any of the following signs of a gas leak, call Tucker Hill Air, Plumbing & Electric for emergency services:
Foul smell (rotten eggs or rotting cabbage)
Hissing sound coming from a gas appliance (extremely dangerous)
Dying house plants
Symptoms in pets, such as lethargy, lack of appetite, or vomiting
Health symptoms, such as dizziness, breathing difficulties, or flu-like symptoms, which disappear when leaving the home
Outdoor signs include:
Visible air movement
Bubbles in moist ground
Dry spot inside a moist area
Fire on the ground
Our certified technicians will take care of leak detection, repairs, and the new installation of equipment.
Get Quality Plumbing Repair Services in Scottsdale
BBB A+ Rating | 100% Satisfaction Guaranteed | Quick Response
(602) 661-3659
Bathroom Plumbing
If the toilet won't flush or you hear a gurgling sound coming from your sink, then you may have a plumbing problem on your hands. Though some issues can be resolved using DIY solutions, more serious plumbing issues need professional inspection and service.
Tucker Hill Air, Plumbing & Electric plumbers are ready to fix all kinds of plumbing issues, including:
Low water pressure
Leaking pipes
Running toilet
Clogged drains
Slow draining tub
Dripping faucets
Sewer smells
Don't wait until you've got a plumbing emergency on your hands — give us a call right away!
Kitchen Plumbing
For most families, the kitchen is the center of the home. It's where families spend the most time together and where hosts prepare meals to entertain guests and celebrate special occasions. A plumbing problem in the kitchen is not only unpleasant, but it can also keep you from cooking and feeding your family.
A few common kitchen problems include:
Grease clogs
Dripping faucet
Malfunctioning fridge water line
Leaking dishwasher
Leaking plumbing pipes under the sink
Plumbing problems don't go away on their own. If you've noticed any of these signs in the kitchen, call Tucker Hill Air, Plumbing & Electric for expert diagnosis and repair.
Whether you've got a leaking faucet, clogged toilet, or contaminated water, Tucker Hill Air, Plumbing & Electric is just a phone call away. We look forward to offering you the highest quality of service at unbeatable prices!